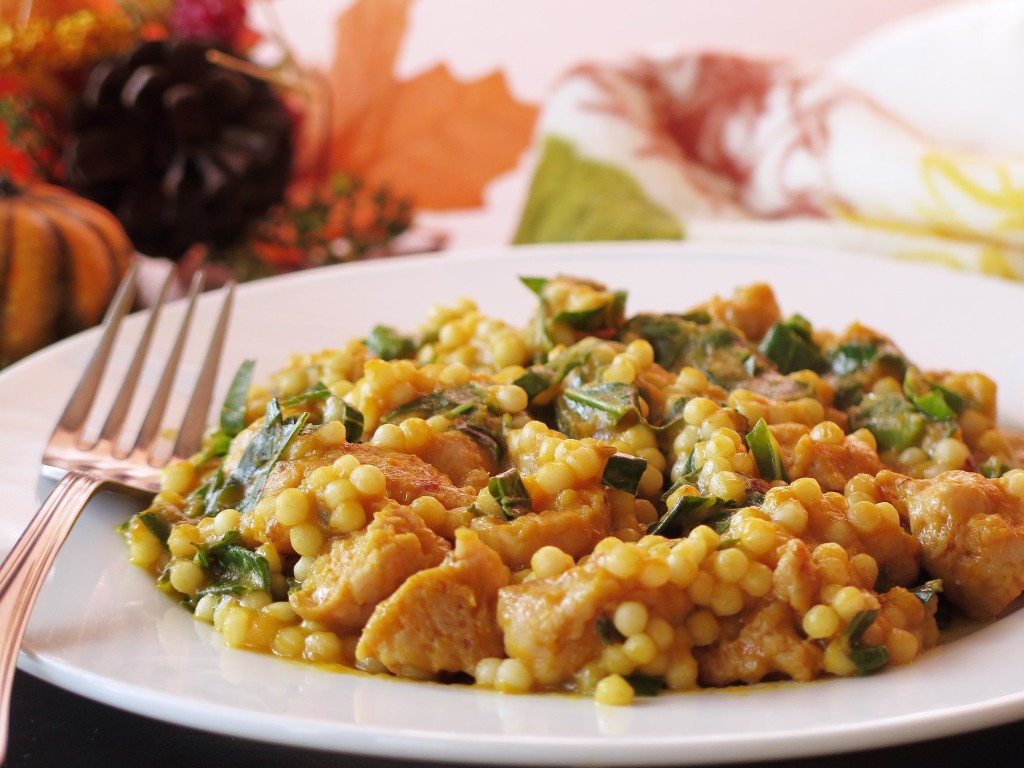 Pumpkin Sausage Skillet Dinner-chunks of chicken sausage mixed with pearl couscous and collards in a creamy pumpkin sauce.
Welcome to Day 3 of #PumpkinWeek 2017! Our group of dedicated pumpkin fanatics are at it again. Follow the hashtag, #PumpkinWeek for more pumpkin recipes we are posting October 2nd thru the 6th! What kind of recipes, you ask? How about Sweet, Savory, Beverage, Etc. Anything and all Pumpkin!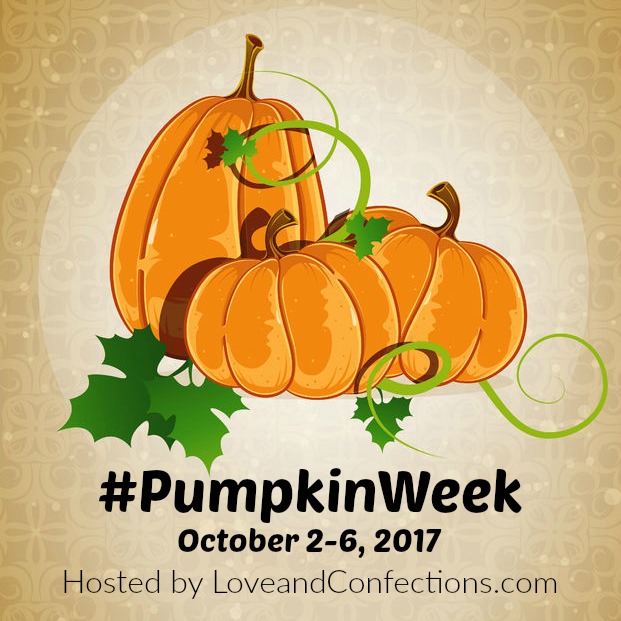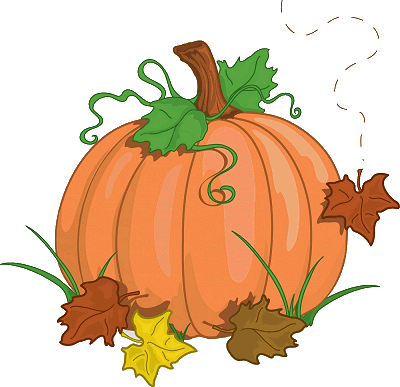 I love a good skillet dinner that's both easy and nutritious. Only dirtying one cook pot works for me.
Creamy pumpkin makes a perfect choice for a sauce thickener. You don't need a lot to create a smooth, flavorful sauce. The pretty fall orange is an added bonus!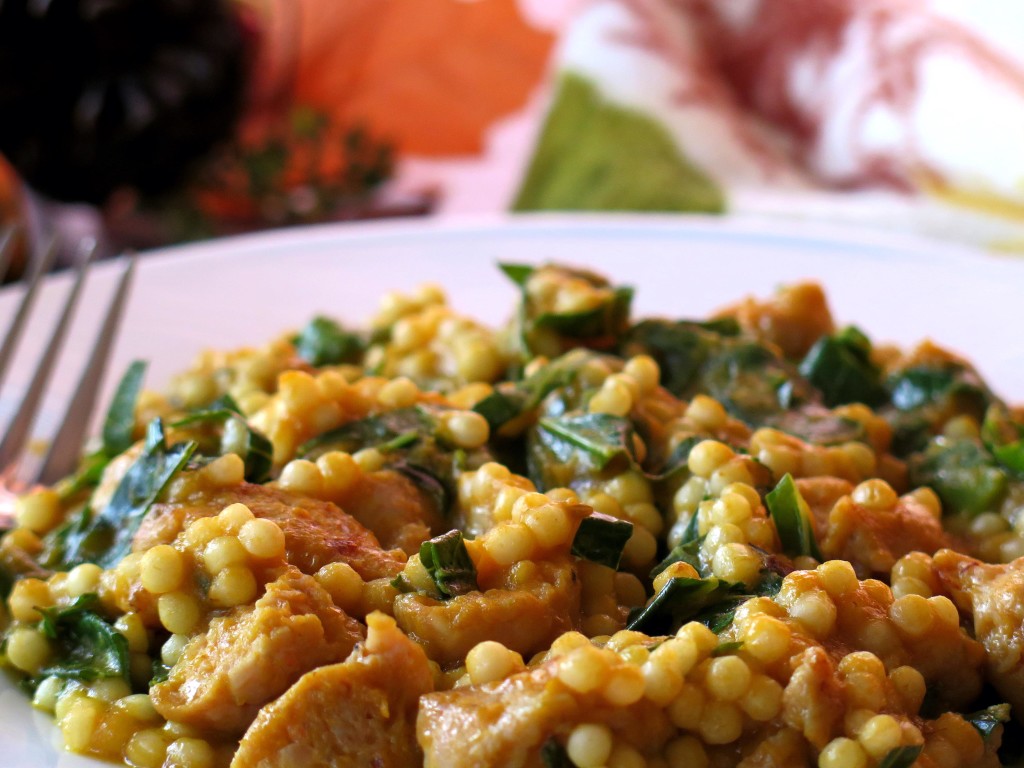 I removed the chicken sausage from the casing and broke it into chunks. Chicken as a sausage is less greasy than pork so I added a bit of oil to get it started. If you'd rather use turkey or pork sausage, go for it! It's all good!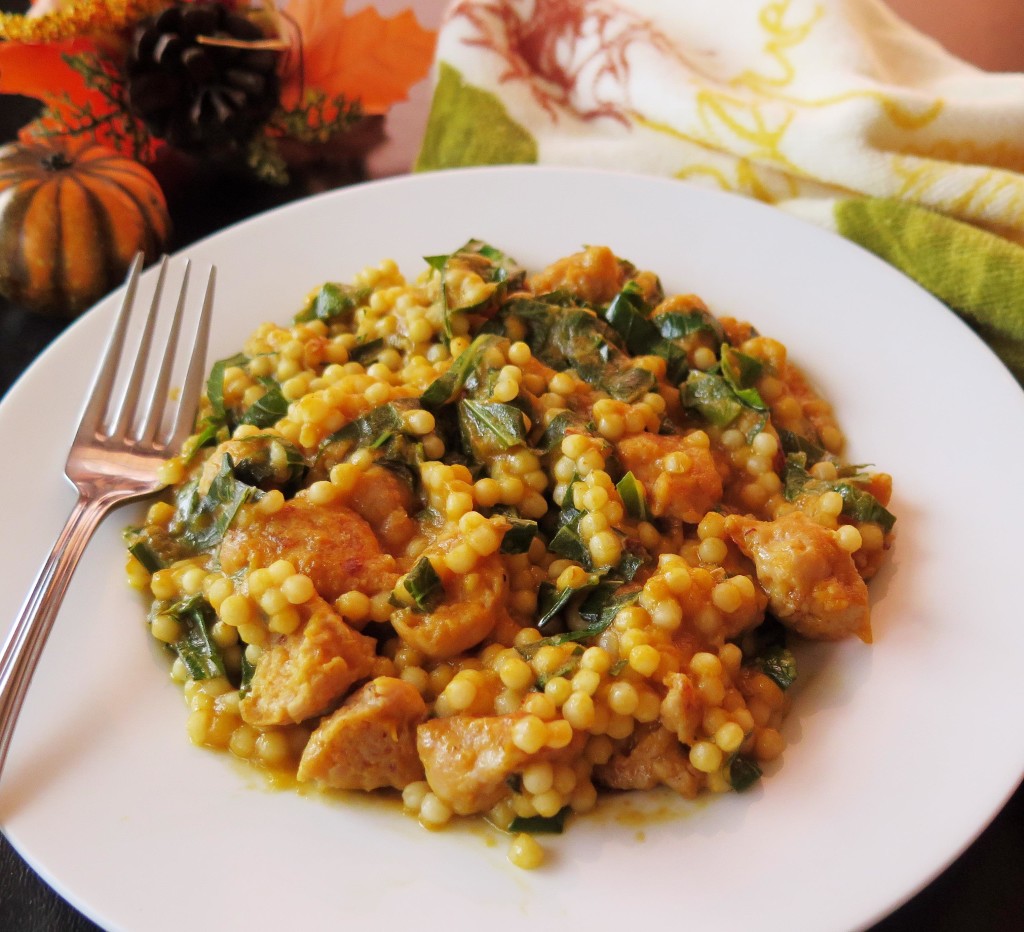 Pearl Couscous adds a bit of texture. I think rice would work just as well.

Pumpkin Sausage Skillet Dinner
Ingredients
1/4 lb chicken sausage, casing removed, cut into 1/2-inch pieces
1 teaspoon vegetable oil
1/2 cup pumpkin puree
1 1/4 cups chicken broth
1/4 cup shredded collard greens
1 teaspoon fresh thyme
1/2 cup pearl couscous
salt and pepper to taste
Instructions
In a large skillet, brown sausage in oil over medium heat.
Add broth and collards. Simmer covered about 5 minutes.
Add pumpkin, thyme and couscous. Reduce heat and simmer covered 10 to 15 minutes until couscous is tender and sausage is completely cooked. Season with salt and pepper.
http://www.cindysrecipesandwritings.com/pumpkin-sausage-skillet-dinner-pumpkinweek/

Special thanks goes out again to Terri at
Love and Confections
for bringing us all together!
Enjoy all these tasty ideas brought to you from the bloggers at #PumpkinWeek !
Pumpkin Drink Recipes:
Pumpkin Spice Coffee Syrup from The Nifty Foodie.
Savory Pumpkin Recipes:
Sweet Pumpkin Recipes: