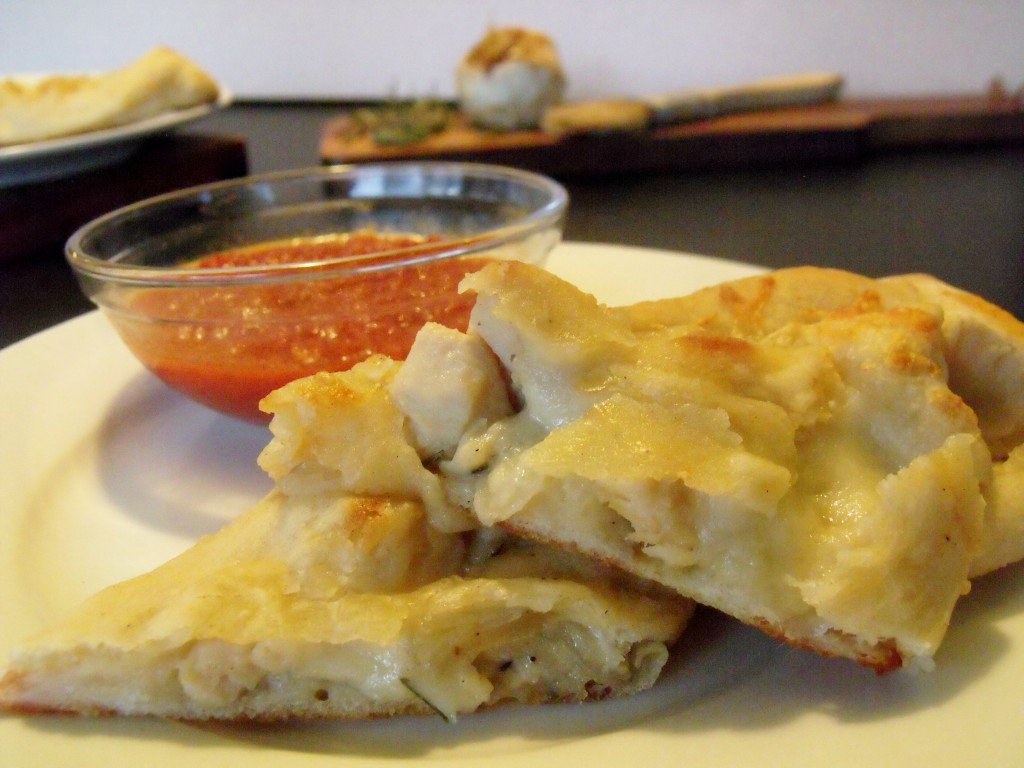 Garlic rules my kitchen. No other ingredient comes close to being number two. So when Heather from girlichef.com invited me to join her and a group of friends to celebrate National Garlic Day by sharing recipes and an awesome giveaway, I said,"Where do I sign up?"
It turned out that I could stay in my kitchen and join in the festivities from home.
That is a good thing because that is where I keep my stash. I do use quite a bit but I still try to grow most of my own crop.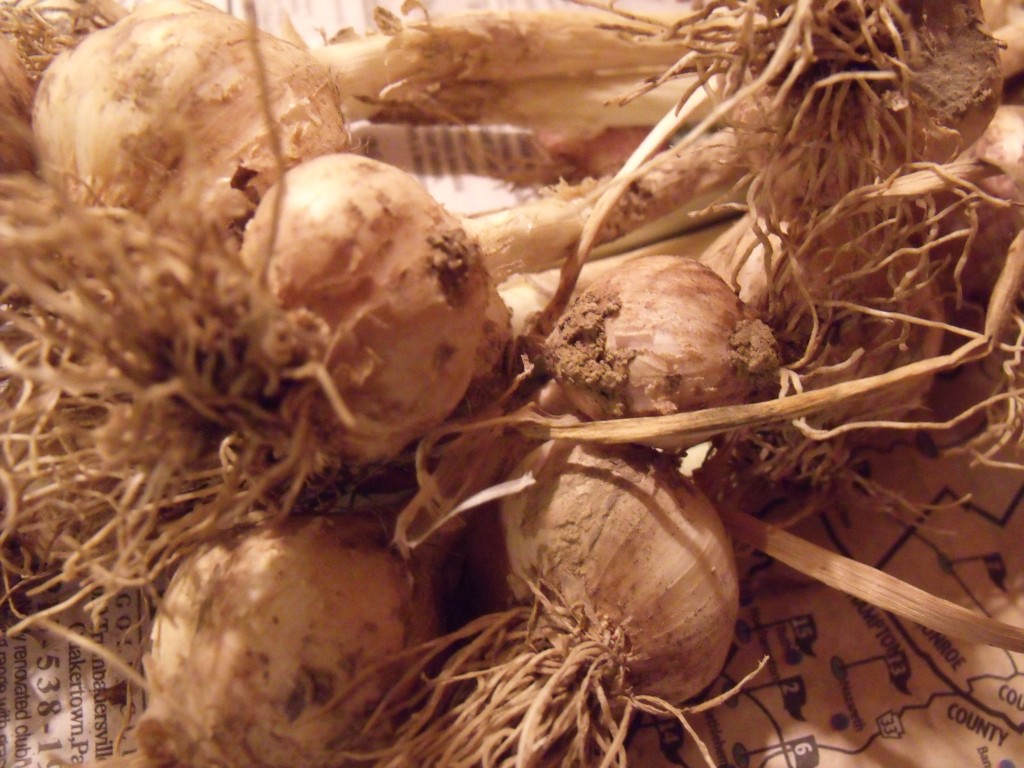 Depending on the time of year, you can find this bulb growing in my garden, overwintering, drying in sun room, or resting as dry storage above the potato bin.
If you would like to learn more about the bulb itself, you can find tips on varieties, growing and storage here.
One of my favorite ways to use garlic is to roast it. If you never tried roasting a bulb, it is very easy. Just cut off the stem end down to where the cloves are peeking out. Drizzle with olive oil. Wrap tightly in foil and roast at 350 for about 30 minutes. It is done when it turns soft and golden brown. Your kitchen will smell wonderful! I wonder if there is a way to bottle that smell. Hmmm.
Sorry I was daydreaming for a minute! Anyway, when you are ready to use it, squeeze the bulb and the roasted cloves will slide out. It will keep several days refrigerated as is wrapped in the roasting foil. I made extra and enjoyed some in mashed potatoes and later with spaghetti.
Roasting garlic draws out the bulb's sweetness. Remember since it is a bulb, it basically holds the plant's food in the form of sugar. Same thing with onions. Caramelized onions taste so different than in their raw state. Delicious, right?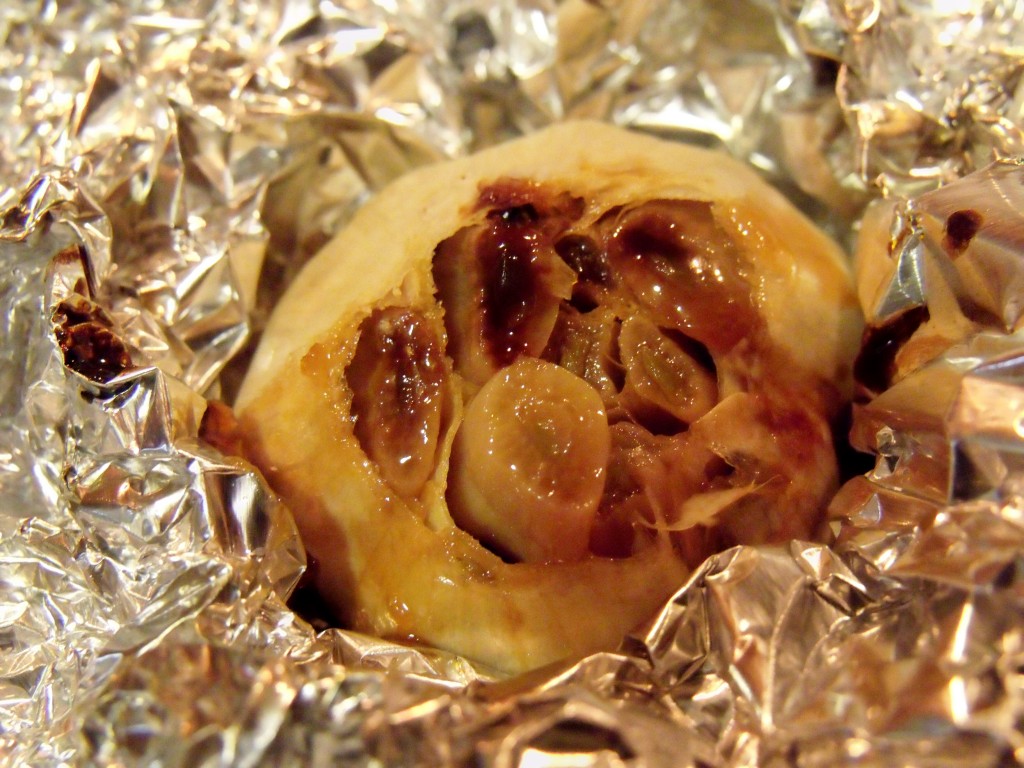 These Roasted Garlic Chicken Pizza Pockets combine so many of my favorite ingredients in one handy meal. This is an easy meal you can prepare ahead for weekday dinner or use as a quick meal on a busy weekend. Did I mention caramelized onions are in here too?

Enjoy!
Start with sauteed chicken and onions.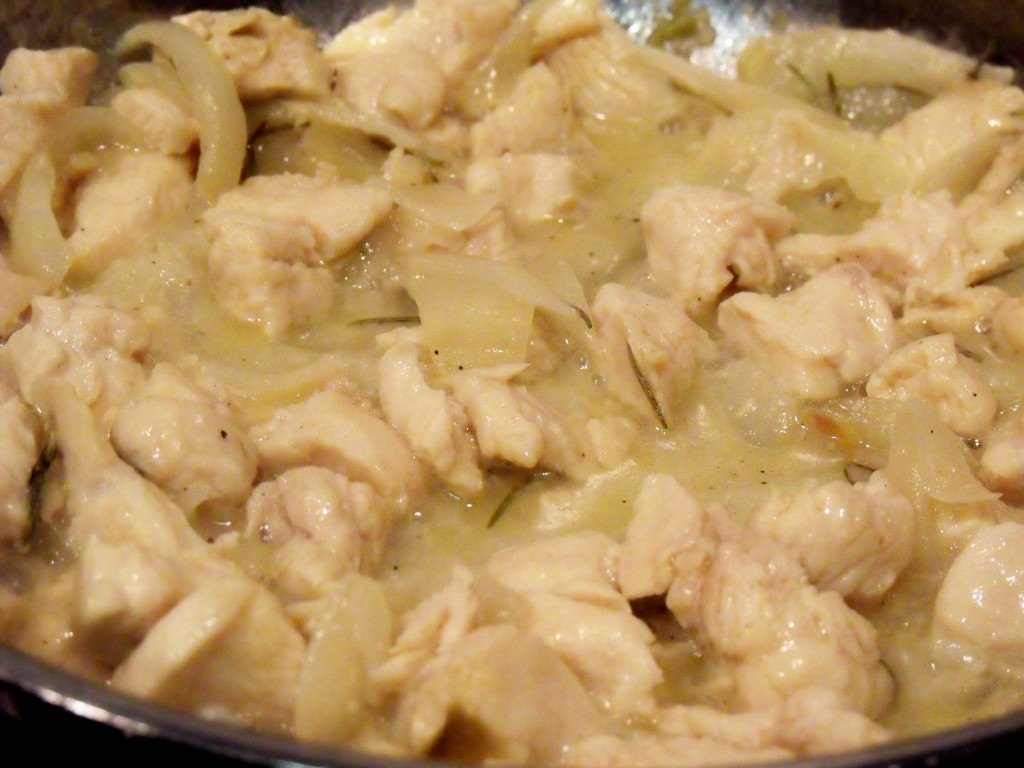 Add the cheese and close.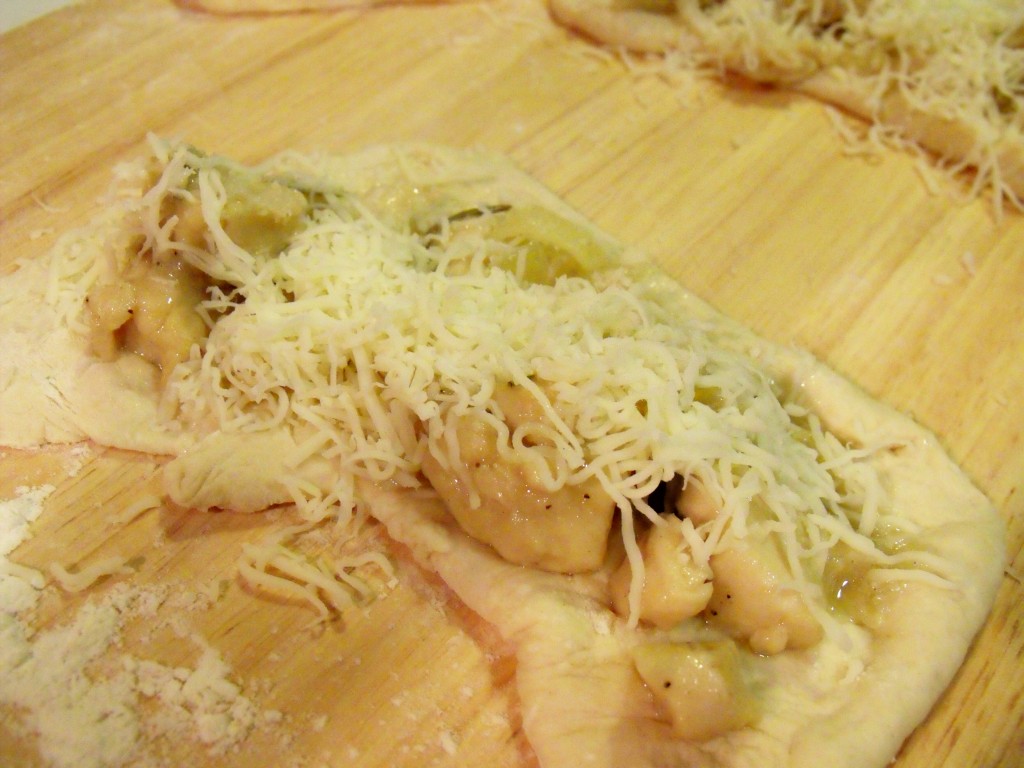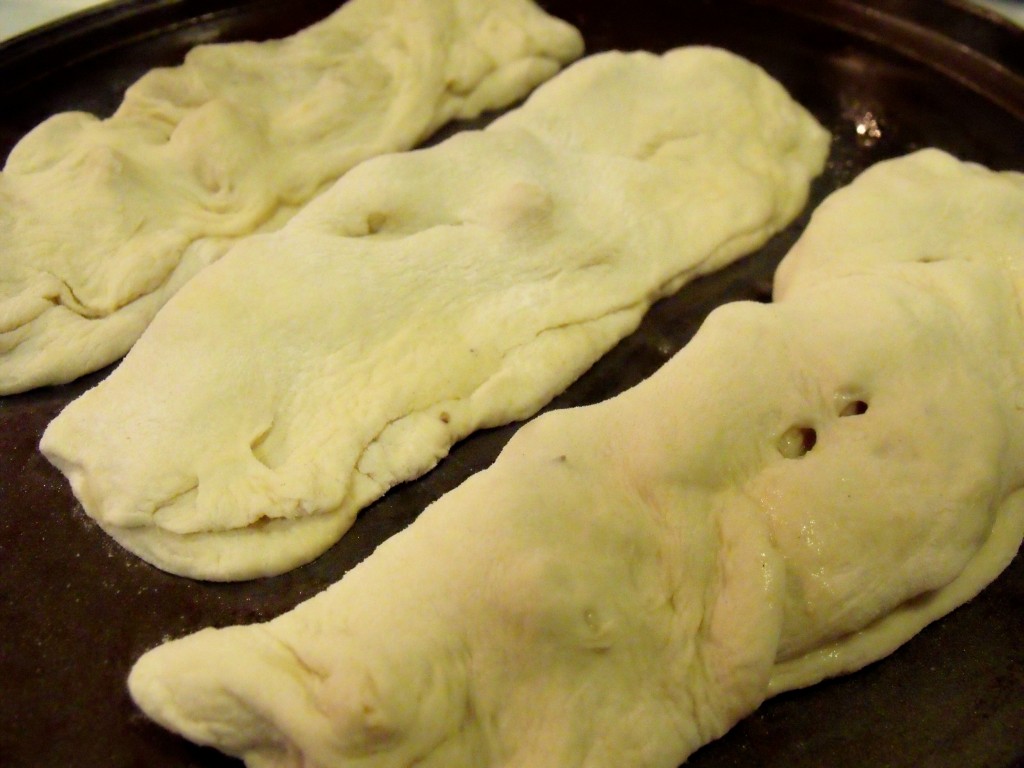 Bake to golden brown.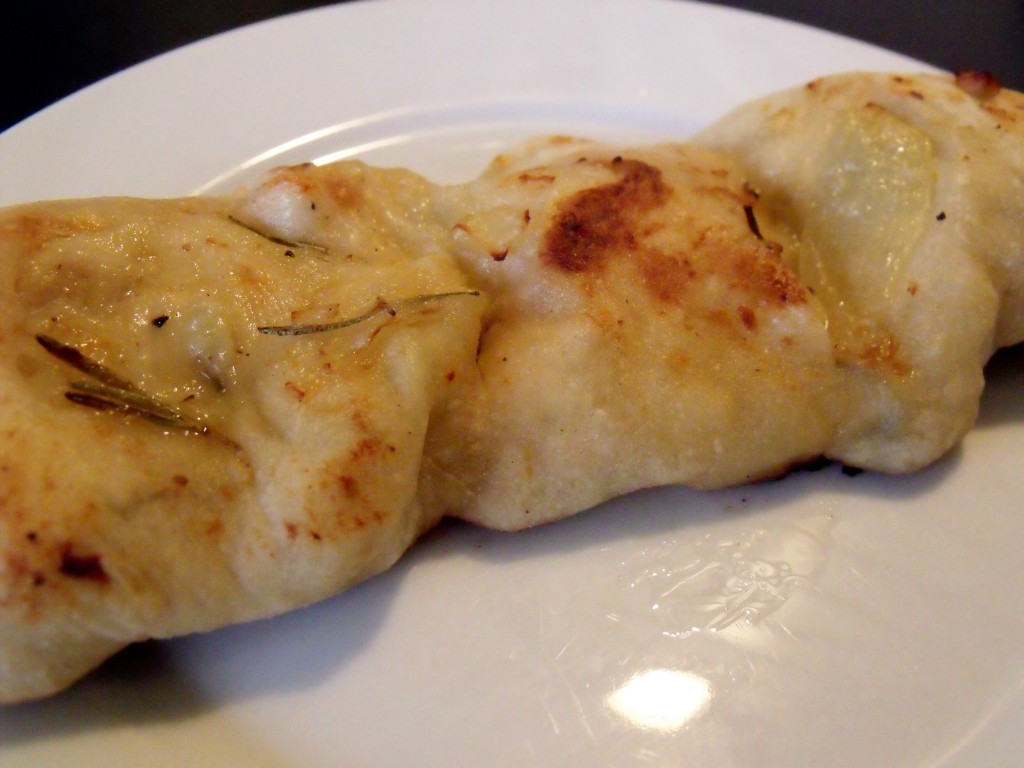 Roasted Garlic Chicken Pizza Pockets #NationalGarlicDay
Ingredients
1'2 pound chicken breast cut into bite-sized pieces
1 bulb roasted garlic (entire bulb not just a few cloves)
1 medium onion, chopped
3 Tablespoons butter
1 Tablespoon olive oil
1 teaspoon dried rosemary
1 cup shredded mozzarella or pizza blend cheese
½ small pizza dough round, purchased or homemade
sauce for dipping
1 28-ounce can crushed plum tomatoes
¼ cup finely diced onion
2 tablespoons minced garlic
1 tablespoon dried oregano
salt and pepper to taste
Instructions
Add butter, oil, chicken and onions in a large skillet. Saute 2 minutes then squeeze in roasted garlic and rosemary. Cook until chicken is done and onions caramelize, about 5 minutes.
Cut dough into 4 pieces about 2x4-inches each. Roll out into a rectangle like a Stromboli.
Divide chicken mixture between dough pieces. sprinkle with cheese.
Fold over edges and seal. Add s few slits on top to let out steam.
Brush tops with leftover buttery pan drippings. Too good to waste!
Spray a pizza pan or sheet pan lightly with cooking spray. Bake at 450 for about 15 minutes until tops are brown and cheese is melted.
While pizza cooks make sauce. Add sauce all ingredients to a medium-sized sauce pan and cook over medium heat, whisking frequently until tomatoes are broken down, vegetables are cooked and sauce thickens, about 15 minutes.
Or serve with your favorite pizza sauce.
Here are 14 more great ways to enjoy my favorite edible bulb from these garlic loving bloggers!
Giveaway
In honor of National Garlic Day and our love of the stinking rose, we are giving away a Garlic Lovers Prize Pack (valued at over $100) that includes:
The Garlic Farmers' Cookbook
One-year membership to the Garlic Seed Foundation
5 Garlic Button Covers
OXO Good Grips Garlic Press
The Ultimate Garlic Peeler
Tumbleweed Pottery Garlic Clove Canister Keeper with Vented Lid
Terra Cotta Garlic Roaster
2 Bulbs of Whole Black Garlic
To enter, simply leave a comment on this post (mandatory) answering this question: What is your favorite GARLICKY dish (or one that you'd love to try)?

After you've answered the question for entry into this contest, be sure to record that you did so in the rafflecopter widget below; doing so will unlock many more optional ways to earn entries.
a Rafflecopter giveaway

This giveaway is open to residents of the Continental USA. Entries will be accepted through 11:59 pm ET on Thursday, April 24, 2014. All entries will be verified. A winner will be chosen from qualifying entries via random draw, and notified via email within 48 hours of the close of this contest. The winner will have 24 hours from the time the email is sent to respond with their complete name and mailing address (no P.O. Boxes). If no response is received within 24 hours, a new winner will be chosen.
Prizes provided by The Garlic Seed Foundation, Food Lust People Love and girlichef. Prizes may vary slightly from images shown and are subject to replacement with comparable items if ones pictured are no longer available at the close of this contest. Items may be shipped separately.