This week our #SundaySupper team steps up to the challenge of bringing budget friendly recipes to the table. Budget friendly to me also includes saving time. Like they say, "Time is money," and nothing saves more of both than a quick casserole, soup or skillet dinner. Also if you need to feed a larger group or bring an inexpensive dish or dessert to a potluck, we got you covered too.
Thanks to our co-hosts for this week's budget friendly event, Lane from Supper for a Steal and Pam of The Meltaways for putting together this great list of recipes and ideas.
I often make quick skillet meals with whatever I have on hand. This past summer, that included A LOT of yellow and red pear tomatoes from my garden!
I kind of threw them in everything I can get away with! If they're slightly blemished, they were "cookers". If they're whole, they're "snackers" and "cookers". If they're extra pretty, they're going in a salad (or snackers or cookers) 😉
So for tonight's #SundaySupper I chose a quick and easy skillet casserole. You can use canned tomatoes instead or whatever you have on hand.
I like to use V-8 or vegetable juice for added nutrition and a taste boost! If you never cooked with it, take a second now to slap your forehead and say, "I could have used a V-8 or other vegetable juice cocktail!" 😮
For a vegan dish, you could make this without the turkey too!
Turkey and Acini Di Pepe Skillet
Ingredients
1 lb ground turkey
1 Tbsp olive oil
2 cups cherry tomatoes, halved
2 cups spinach leaves
1 can (11.5 oz) V-8
1 cup acini di pepe
1 Tbsp Italian seasonings
Method
1. Add oil ground turkey, tomatoes, spinach and V-8 to skillet. Cook over medium heat, stirring to break up turkey for about 3 to 4 minutes.
2. Add seasoning and pasta. Stir. Cover and reduce heat to simmer about 10 minutes. Check frequently and stir to avoid sticking. Dinner is ready when pasta is al dente and turkey is thoroughly cooked.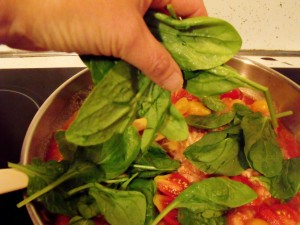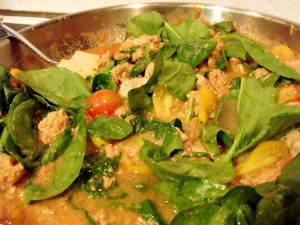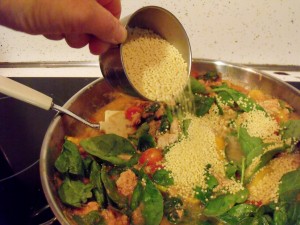 3. Serve with salad or bread. I cut a slice off my homemade olive bread and gave it a quick, light toast and some butter! Delicious!
Servings: 4
Cooking Times
Preparation Time: 10 minutes
Cooking Time: 15 minutes
Total Time: 25 minutes
Nutrition Facts
Nutrition (per serving): 388 calories, 117 calories from fat, 13.1g total fat, 78.3mg cholesterol, 193.1mg sodium, 710.3mg potassium, 38.5g carbohydrates, 2.8g fiber, 2.1g sugar, 29.3g protein, 2465.4IU vitamin a, 37mg vitamin c.
Check out these great budget friendly ideas our #SundaySupper team put together that won't break the bank!
Starters, Soups, and Salads
Main
Sides
Drinks and Desserts
Join the #SundaySupper conversation on Twitter Sunday! We'll tweet throughout the day and share recipes from all over the world. Our weekly chat starts at 7:00 pm EST. Follow the #SundaySupper hashtag, and remember to include it in your tweets to join in the chat. Check out our #SundaySupper Pinterest boardfor more delicious recipes and food photos.
Coming to Orlando July 19-21, the first annual Food and Wine Conference sponsored by #SundaySupper. Visit the website to learn more and join in on the fun.