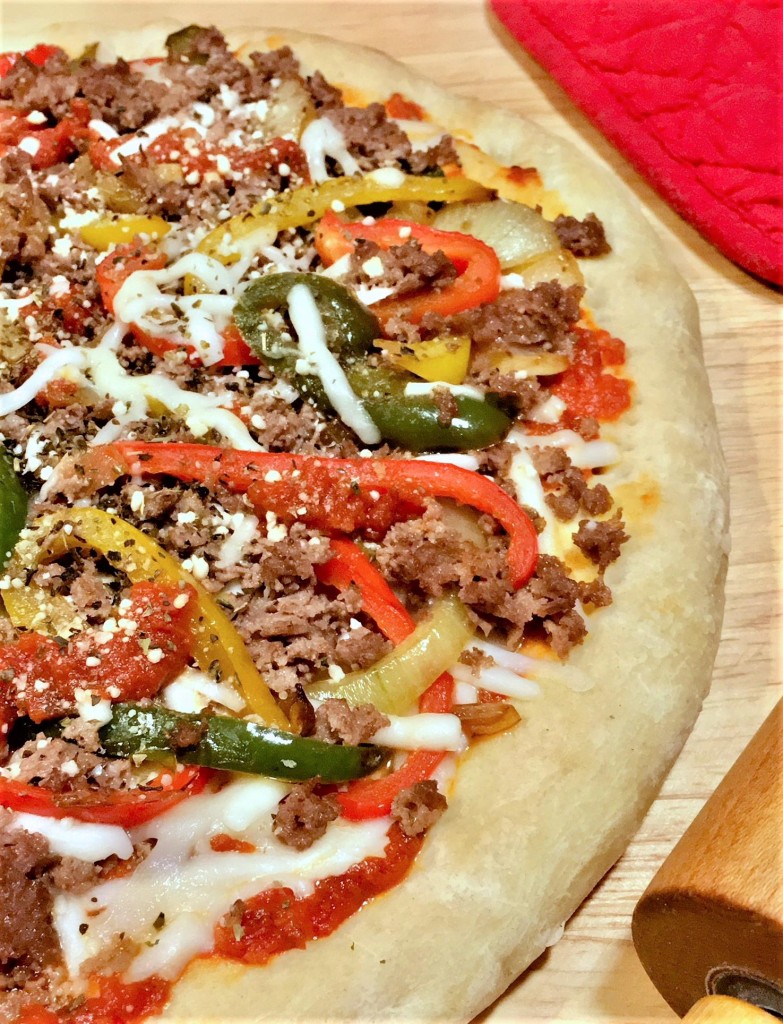 Cheesesteak Pizza smothers crisp crust pizza with chunks of steak, peppers and onions. Add sauce and gooey cheese. Pure comfort food.
Welcome to another great Festive Foodies event! Today we are celebrating #ComfortFood !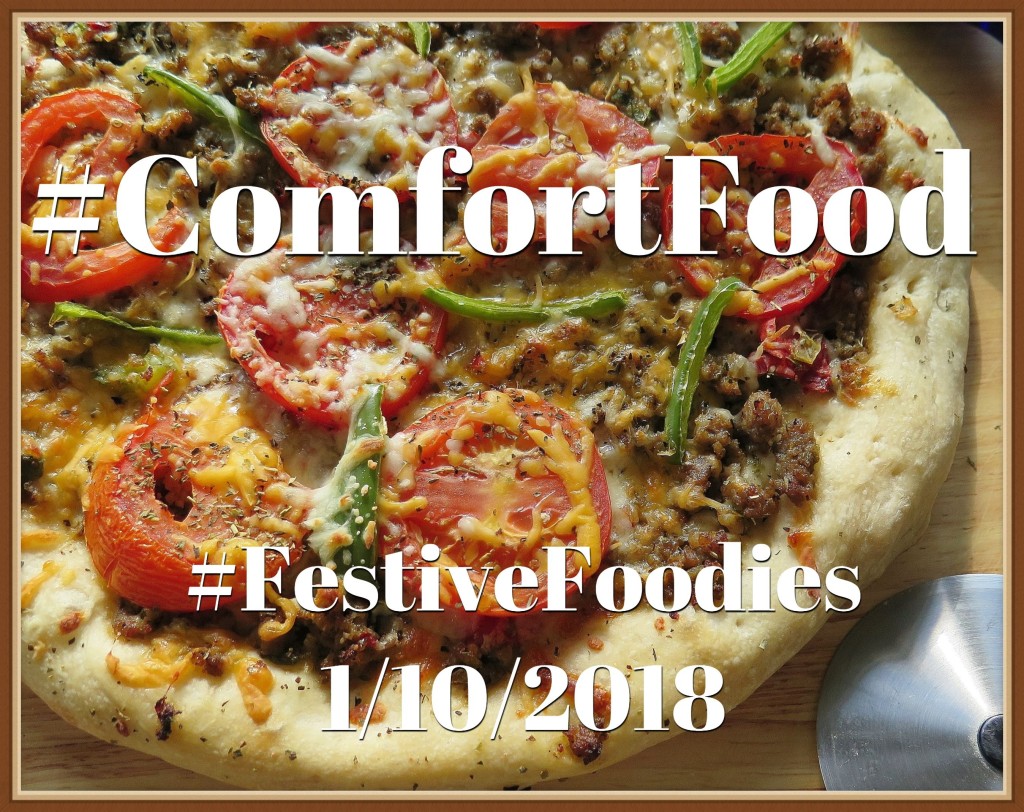 Comfort food comes in all shapes, sizes and flavors. The bottom line: comfort food hits the spot. It fills the void you sometimes get when you're out of your comfort zone.
Different foods remind us of different things. When I see doughnuts, I think of the bakery where I worked years ago.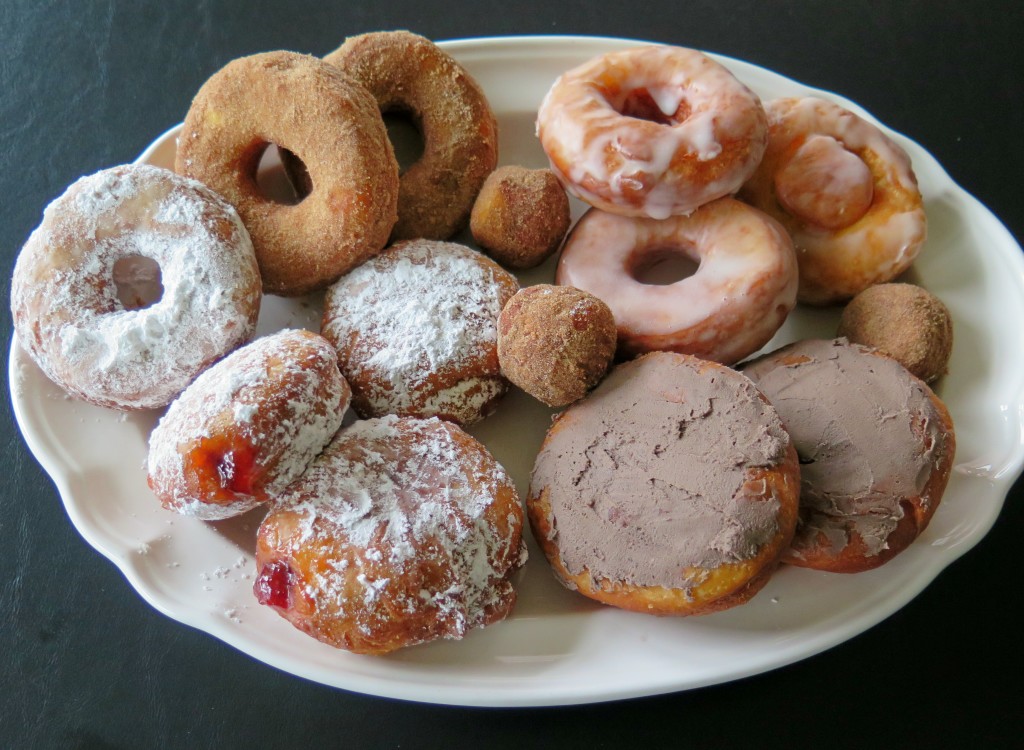 Lifelong friends were made there. Laughs, pranks and good times. Not all good memories of course. It's more of a representation of memories from a special time in my life.
Doughnuts equal comfort and familiarity to me. I'm also reminded that the bad memories from then like my Mom's passing and a turbulent bout with family did come to pass.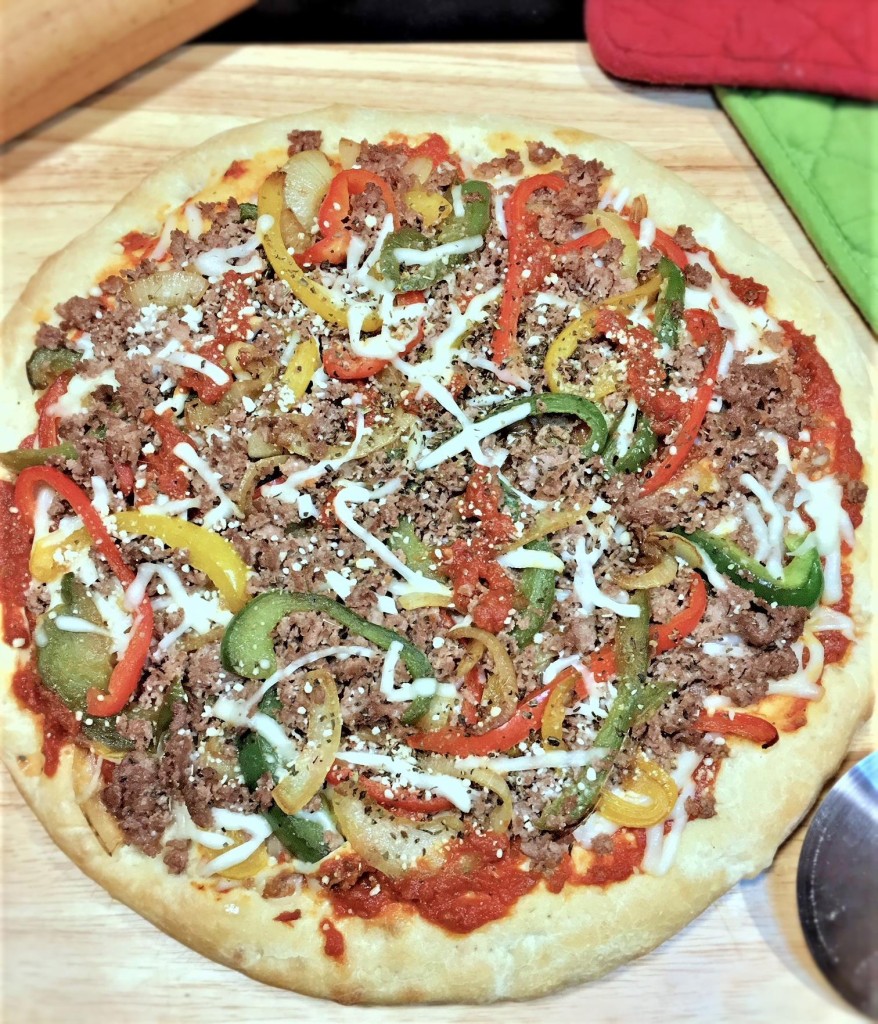 Pizza is one of those special foods binding us to certain memories.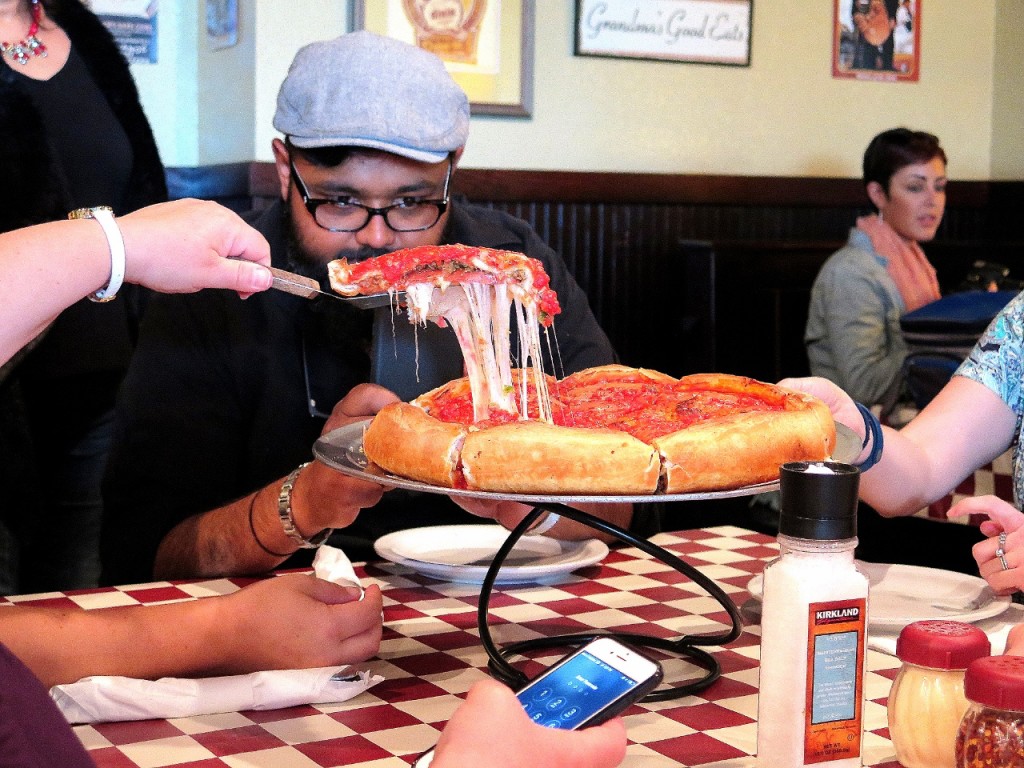 Maybe it's what you lived on in college. Pizza might have been a treat you had on nights Mom didn't want to cook. I've been there. Both as a kid and a mom.
Which toppings we put on pizza often stems from our moods.
Extra hungry? How about one with "the works"? Feeling a little overweight but you still want pizza? Maybe a veggie lovers is in store for you. Sadness might throw caution to the wind and you'd order something high in fat like extra cheese or sausage.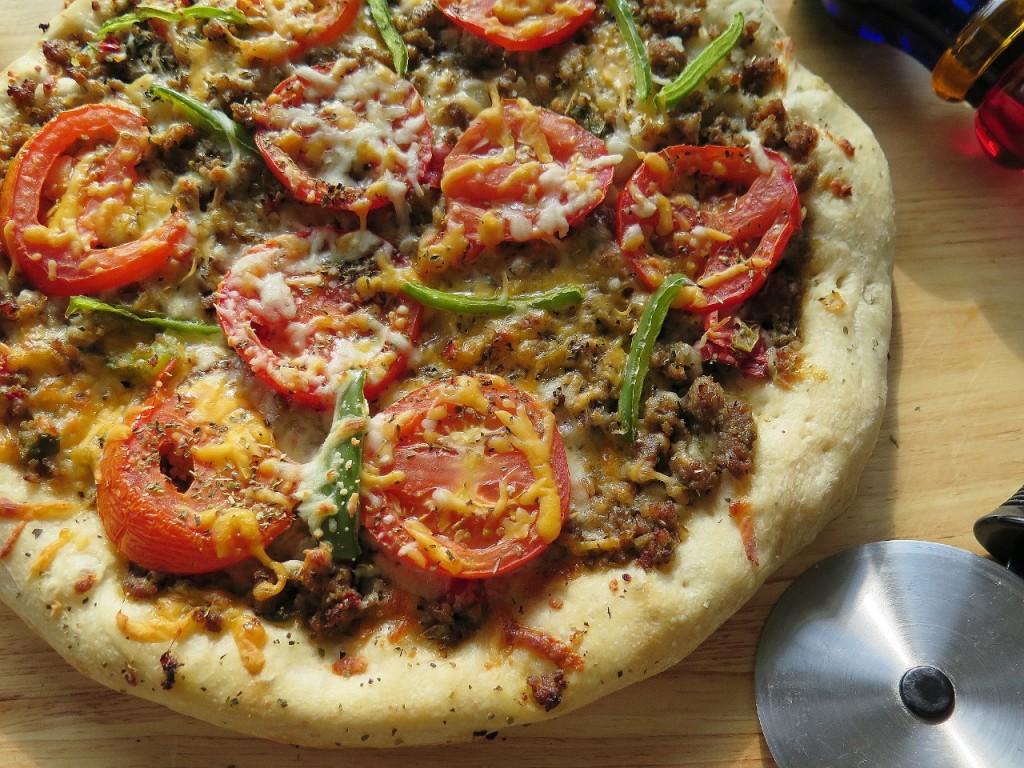 Yes pizza is true comfort food.
Keep that in mind when you read this recipe. Cheesesteak Pizza offers tender pieces of thinly sliced beef, bell peppers(of various colors of course), onions, tangy pizza sauce and tons of shredded mozzarella.
No penalties for spelling it "Cheese Steak" Pizza. Chipped steak should be it's true name.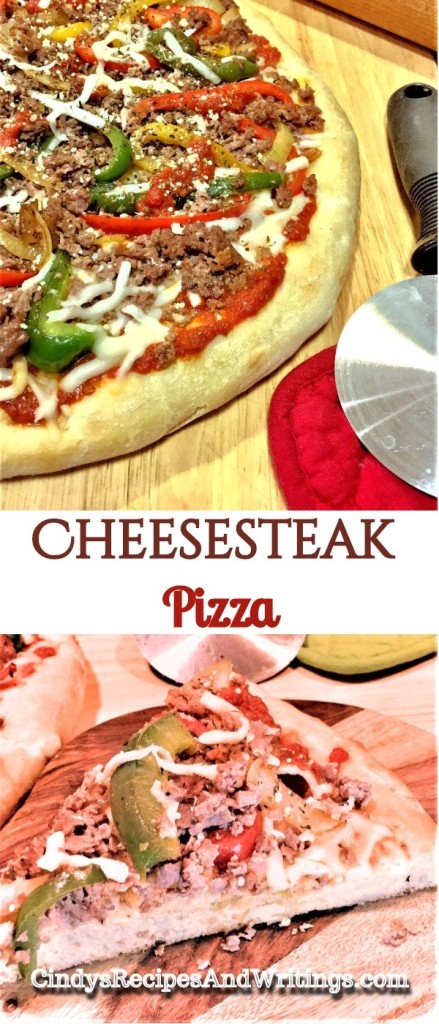 Ingredients
1 pizza dough round (bought or homemade)
flour for dusting
1 cup pizza sauce
1 tablespoon olive oil
8 ounces shredded or thin sliced steak meat
2 cups bell pepper slices
1 medium onion, thinly sliced
1 1/2 to 2 cups shredded mozzarella
2 tablespoons grated Parmesan
1 teaspoon garlic salt
1 teaspoon oregano or Italian seasoning
cooking spray
Instructions
Preheat oven to 450 degrees
Spray pizza pan with cooking spray.
Sprinkle board with flour. Shape dough into circle to fit a 12 to 14-inch pizza pan or stone.
Place dough on pan and prick with a fork to keep from bubbling. Bake dough for 5 to 10 minutes until lightly brown but still soft. Remove from oven.
While crust pre-bakes, saute peppers and onions in oil until softened but not mushy. Remove to dish.
Cook steak until no red appears and thoroughly cooked. Add to peppers and onions.
Add desired amount of sauce to crust up to 1/2-inch from edge. Add mozzarella cheese then toppings.
Sprinkle with Parmesan, garlic salt and seasonings.
Bake at 450 until thoroughly cooked, cheese melted, dough firm not soggy. About 10 to 15 minutes.
Cut into 8 pieces. Serve.
https://www.cindysrecipesandwritings.com/cheesesteak-pizza-comfortfood-festivefoodies/
Pizza Tip:
For crispier crust, pre-bake the pie shell at 450 for 10 minutes or golden brown but still soft. Remember to fork prick the dough to prevent bubbling.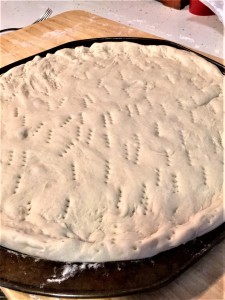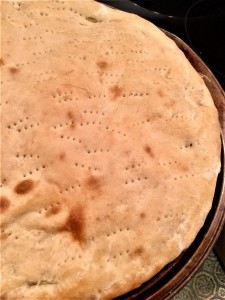 Food for thought…Which are your go to toppings for pizza? Are these always your same choices? Do you bend when a group orders toppings? I'd love to hear your thoughts in a comment below.
In the meantime…
Enjoy these great #ComfortFood ideas from #FestiveFoodies!