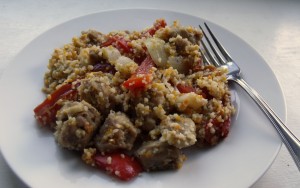 Weekday suppers around here can sometimes take on a yard sale effect. Not exactly leftovers but more like fridge, freezer, pantry use ups. That BOGO chicken sausage deal sounded so good at the time, but now the one I paid for -I always eat the free one first, I know but let me have my small victory –

sits in the freezer and its not getting any younger.
I see a little bit of couscous or rice or orzo hanging around that's not enough for a full dish makes me think, casserole.

This is a quick, easy casserole that's light yet satisfying. You can use any kind of sausage or even tofu.
Ingredients
1 pound chicken sausage, cut into 1-inch pieces
1 large red pepper, cut into strips
1 large green pepper, cut into strips
1 medium onion, sliced
1 Tablespoon olive oil
1 teaspoon Italian seasoning or oregano
salt and pepper to taste
2 cups chicken broth
1 cup couscous
Directions
Brown sausage in oil over medium heat about 5 minutes. Add peppers, onions, seasoning and broth.
Cover and simmer until sausage is fully cooked and peppers reach desired texture. I like my cooked peppers a little on the crisp side.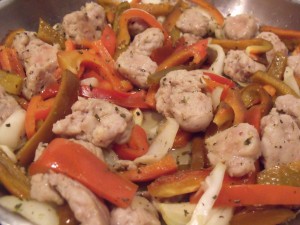 Stir in couscous, cover and remove from heat. Rest it about 5 minutes until liquid is fully absorbed.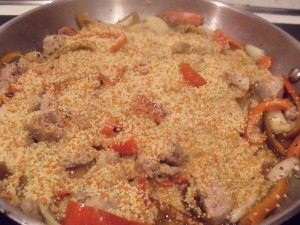 Fluff and serve.
By the way, wouldn't Fluff and Serve make a great brand name? 😉
Check out these other great ideas for your Weekday Supper menu!
Monday: Blackened Tilapia w/ Quick Collard Greens from girlichef
Tuesday: Chicken Divan Mini Bread Bowls from Gourmet Drizzles
Wednesday: BBQ Bacon Meatloaf Cups from Momma's Meals
Thursday: Gluten-Free Veggie Stir-Fry from No One Likes Crumbley Cookies
Friday: Chicken Sausage, Peppers, and Couscous from Cindy's Recipes and Writings
Related articles