Double Strawberry Hazelnut Cookie Bars. Chewy hazelnut blondies with strawberry and wild strawberry jam swirled on top.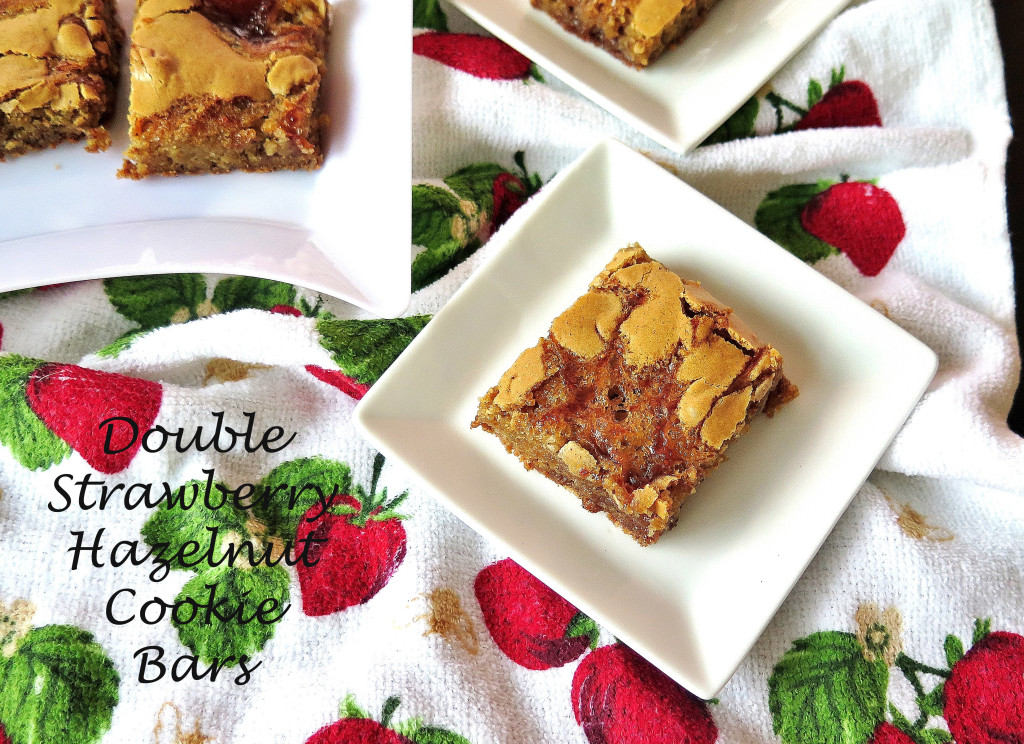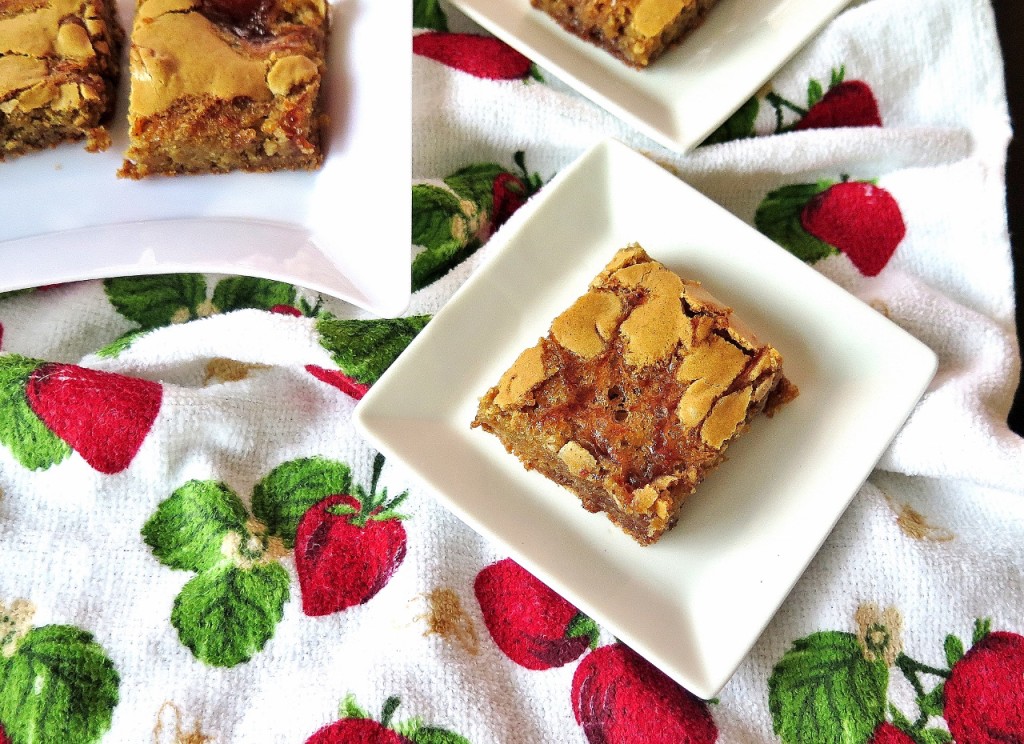 Welcome to another edition of Fill the Cookie Jar! This month the group is celebrating a taste of summer.
Here in eastern PA we are between fruit seasons. Fall brings us apples and pears. The first to appear here are strawberries. Strawberries grown at home and U-Pick farms are coming into season ripe and ready.
Nothing beats fresh fruit. For cookies I sometimes like the convenience of a good preserve. For these cookies I used Rigoni di Asiago Fiordirutta a jam made with fresh and wild strawberries. A bit tart. A bit sweet. A good offset for a sweet brown sugar based blondie.
I also use Bob's Red Mill Hazelnut Flour.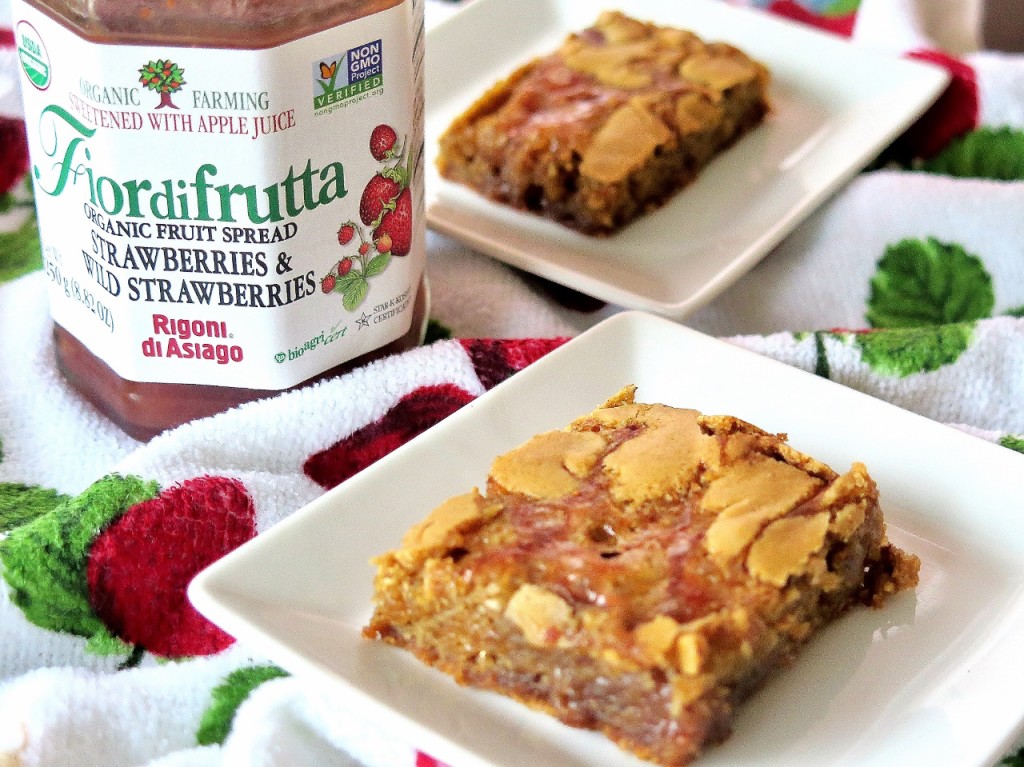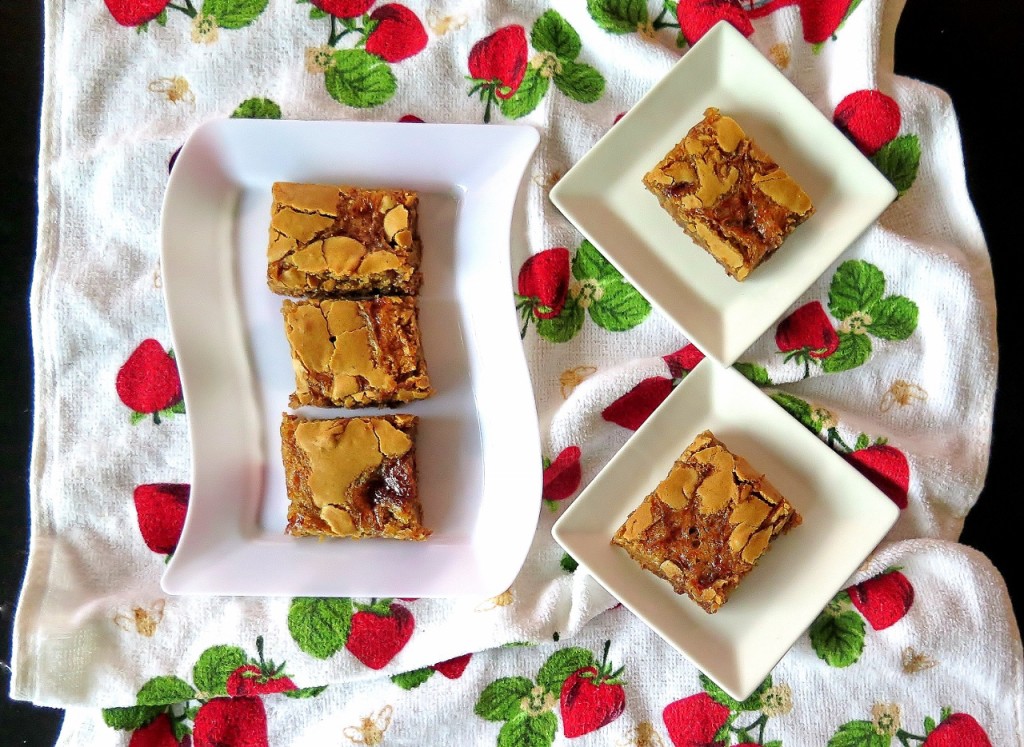 Double Strawberry Hazelnut Cookie Bars #FillTheCookieJar
Ingredients
1 cup brown sugar, packed
1/3 cup butter
1 egg
1 teaspoon vanilla
1/4 cup hazelnut flour
1 1/4 cup flour
1/2 teaspoon baking powder
1/2 teaspoon baking soda
1/4 cup strawberry jam I used Fiordifutta Strawberry Wild Strawberry Jam
Instructions
Melt butter and brown sugar together over medium heat, stirring constantly until completely melted. Cool.
Add egg and vanilla.
Add flours, baking powder, baking soda.
Pour into well-greased 8x8-inch pan. Drop dots of jam on top. Bake at 350 for about 20 minutes until inserted toothpick comes out clean.
Cool and cut into desired sizes.
http://www.cindysrecipesandwritings.com/double-strawberry-hazelnut-cookie-bars-fillthecookiejar/
If you like fruit blondies, try my Cranberry Blondies!
Thank you Cynthia Landrie from Feeding Big at http://FeedingBig.com for hosting this fun event! If you would like to join us, click on the cookie jar!
Make sure you take some time to see what the other home bakers have been creating! Enjoy!
S'mores Sandwich Cookies by Jolene's Recipe Journal
Pink Lemonade Cookies by Palatable Pastime
Lemon Bars by A Day In The Life on the Farm
Double Strawberry Hazelnut Cookies by Cindy's Recipes and Writings
Red White and Blue Striped Tuiles by That Recipe
Easy Whoopie Pies with Ice Cream by Organized 31
Red, White and Blue Cookies by Cookaholic Wife
Basil Lime Cookies by Join Us, Pull Up a Chair
Orange Drop Cookies by Big Rigs n' Lil' Cookies