Honey Mustard Snack Pretzels flavored with granulated honey, powdered mustard, onion and garlic. A little salty, a little sweet. Serve with mustard for dipping.

Welcome to another addition of Bread Bakers!
January Challenge:
Creative pretzels, traditional pretzels, bake the pretzels of your choice!
I'm a soft pretzel kind of girl. This amber ale pretzel is my favorite.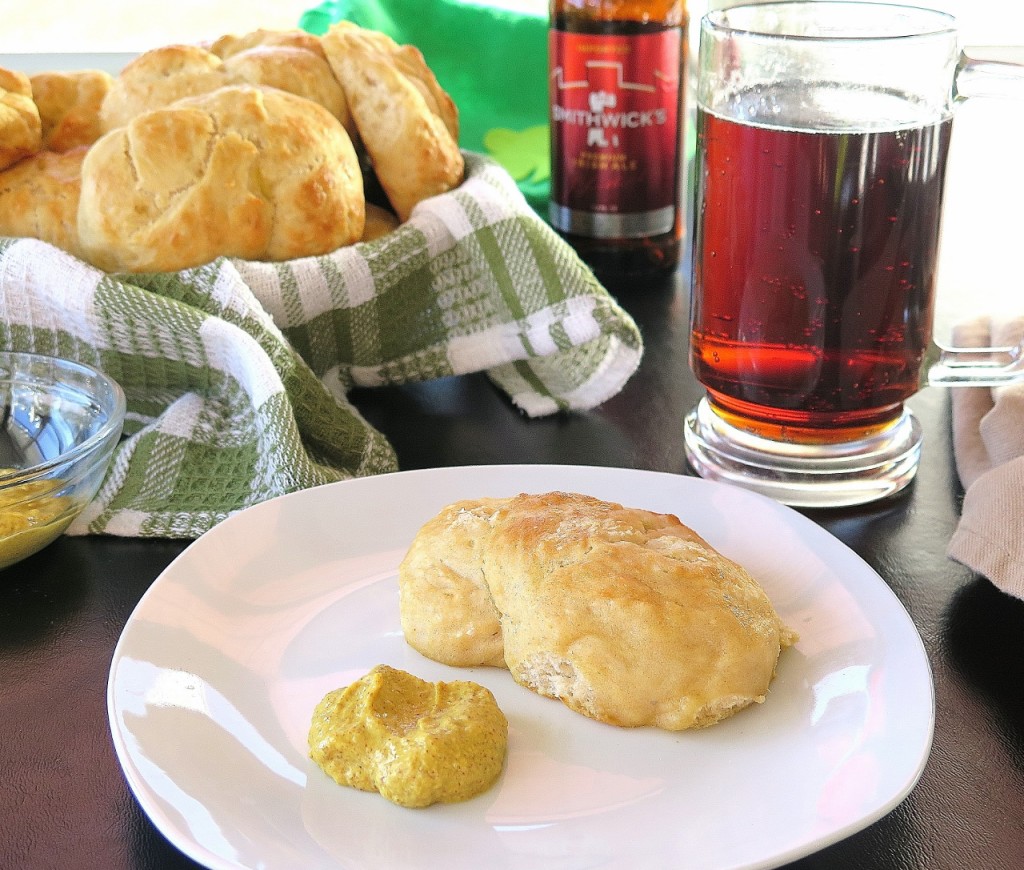 That doesn't mean I'll pass on a hard version. We always have store bought dark pretzels in the house. My guy eats them every night. Peanuts too, but that's a different story.
Most times a normal-sized soft pretzel is too big for snacking. Those big ones are more like a meal to me. I'm better off with a small version. Nugget size to be exact.
A soft pretzel bite is so less intimidating than a whopping big street treat version.
I tried coating them with a mixture of seasonings for a salty sweet taste. Granulated honey, powdered mustard, garlic and onion round out the flavor. Coarse salt too of course!
These bites are best eaten on day one. By day two they can get a bit overly chewy, especially in high humidity areas.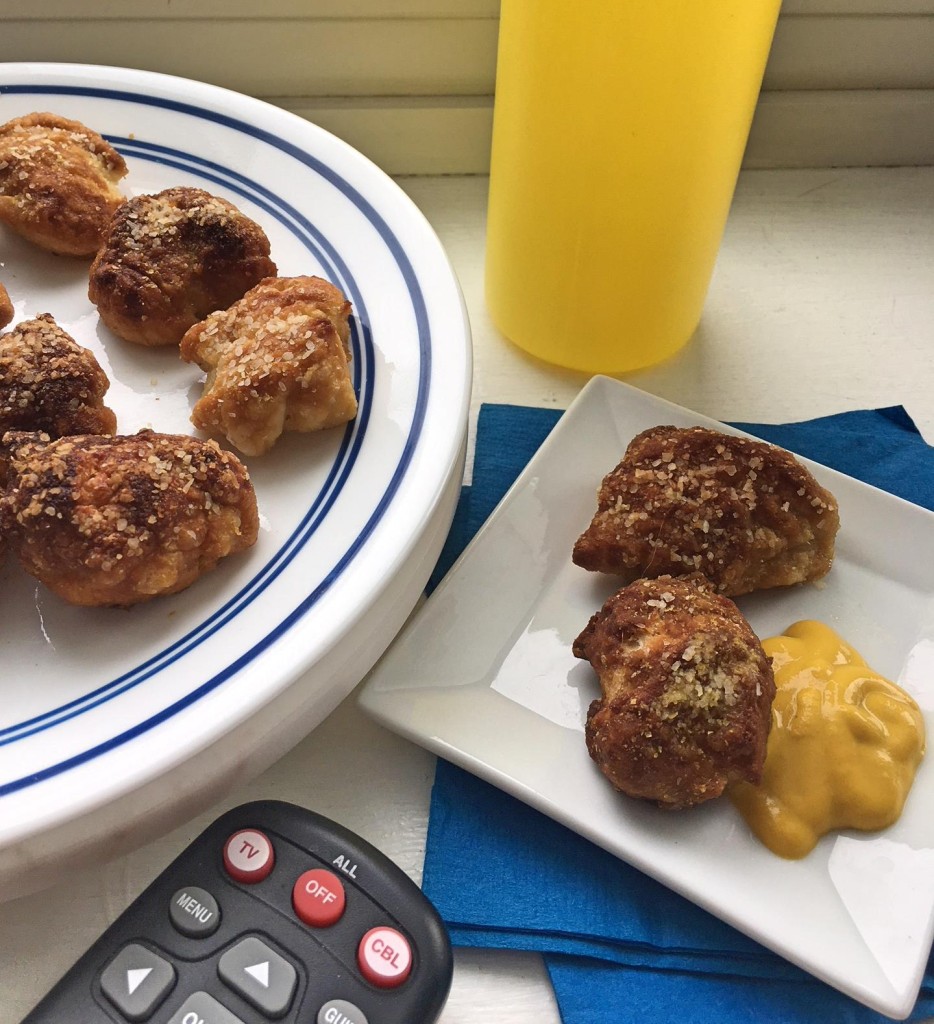 A great idea for a TV time snack. Maybe watching a bit of football or a movie? I'd go for the movie.
Thank you Robin from A Shaggy Dough Storyfor hosting our event!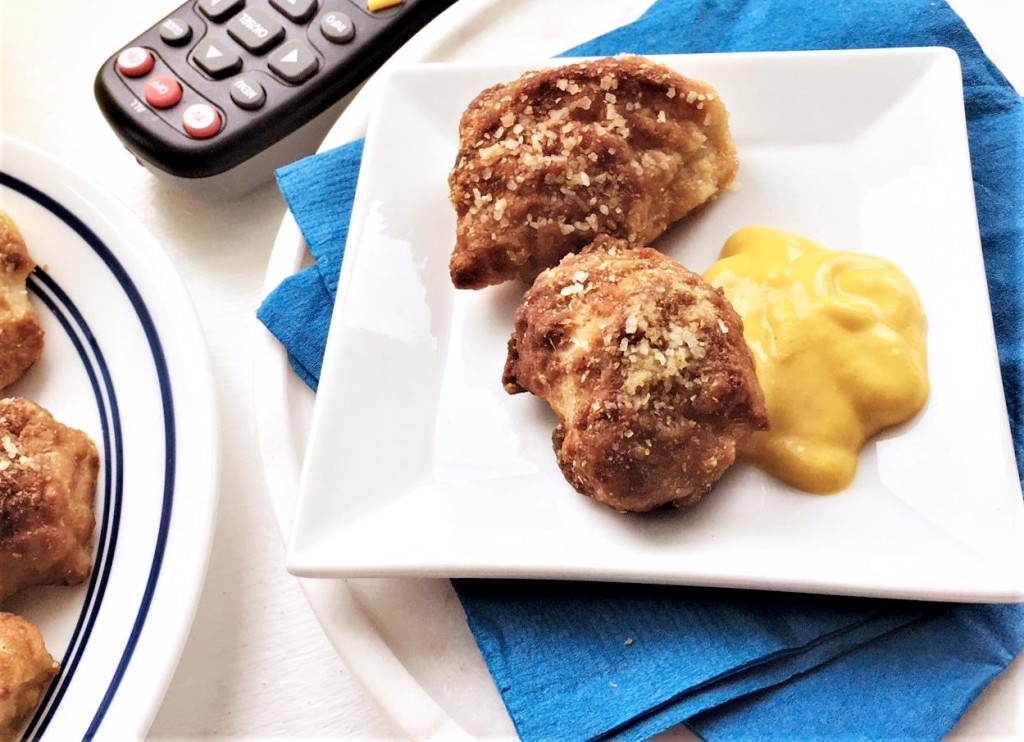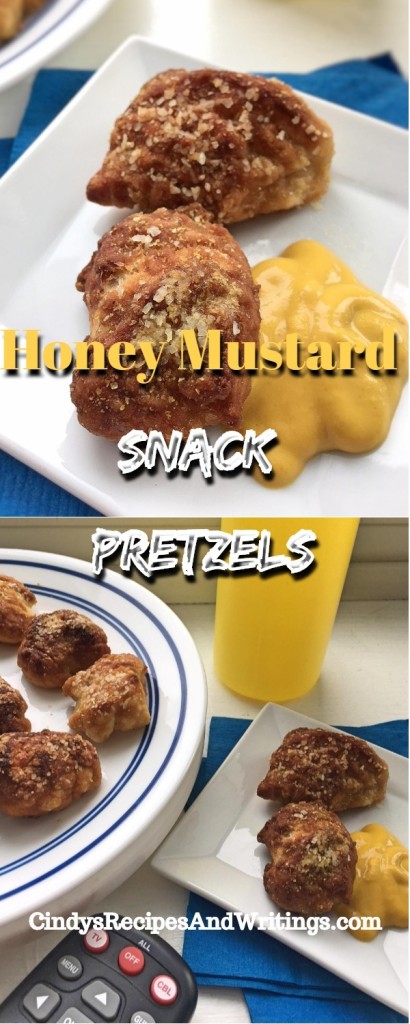 Honey Mustard Snack Pretzels
Honey Mustard Snack Pretzels
Ingredients
1 1/2 cups warm (110 to 115 degrees F) water
1 Tablespoon brown sugar
1 teaspoon kosher salt
1 package active dry yeast (I use Red Star Premium yeast)
22 ounces all-purpose flour, approximately 4 1/2 cups

egg wash

1 large egg beaten with 1 tablespoon water

cooking spray

10 cups water
2/3 cup baking soda

coating

1 tablespoon coarse salt
1 tablespoon granulated honey
1 tablespoon dry mustard
1 teaspoon granulated garlic
1 teaspoon onion powder
Instructions
Preheat oven to 450
Whisk together flour, yeast, brown sugar and 1 teaspoon salt. Add warm water. Knead into a soft dough.
Spray bowl with cooking spray. Add dough. Cover and let rest for 10 minutes. While dough rests, bring water and baking soda to a boil.
Whisk together salt, honey, mustard, garlic and onion. Set aside.
Turn dough out onto lightly floured board. Cut dough into bite-sized pieces.
Drop dough bites into hot water mixture. Cook for about 30 seconds then place dough on lined baking sheet.
Brush with egg wash. Sprinkle with seasoning. Bake at 450 for approximately 30 minutes until brown and hollow sounding when tapped.
http://www.cindysrecipesandwritings.com/honey-mustard-snack-pretzels-breadbakers/
#BreadBakers is a group of bread loving bakers who get together once a month to bake bread with a common ingredient or theme. You can see all our of lovely bread by following our Pinterest board right here. Links are also updated after each event on the #BreadBakers home page.
We take turns hosting each month and choosing the theme/ingredient. If you are a food blogger and would like to join us, just send Stacy an email with your blog URL to foodlustpeoplelove@gmail.com.
Enjoy all these tasty pretzels from us at #BreadBakers!